Bringing women together to learn, share, grow, and thrive.
Through advocacy, scholarships, continuing education, community outreach, and enriching social activities, UWC Winnipeg nurtures an environment that encourages our members to live their best lives. Click HERE to see our latest Highlights from the Bulletin for more information on our club activities.
Coming up at Ralph Connor House
Friday, September 29th –  UWC will be welcoming Sara Orlesky, a trailblazing Canadian sports broadcaster, currently a senior host and producer for the Winnipeg Jets.
Tuesday, October 10th – Week 1 of Living with Climate Change – "Assessing Vulnerability and Risk in a Changing Climate" with Danny Blair, University of Winnipeg, Prairie Climate Centre
Tuesday, October 17th – Week 2 of Living with Climate Change – "The Impact of Climate Change on Canada's Freshwater Lakes and Some Innovative Responses" with Richard Grosshans, Michael Paterson, & Ashley Rawluk, International Institute for Sustainable Development
Friday, October 20th – Scholarship Trust Fund Celebration with Ashley Schers
Sunday, October 22nd –  Please note this event has been postponed. A new date will be announced in the future. Sophie Caron and her orchestra mates return to the house for a symphonic afternoon with dessert and coffee. Registration will open shortly.
Tuesday, October 24th – Final week of Living with Climate Change – "How Climate Change Affects Canada's National Security and how the Country Needs to Address It" with Bryce Offenberger, University of Manitoba
Wednesday, October 25th – Dr. Shelley Sweeney will present The Hamilton Collection from the U of M Archives. Register today!
Friday, November 3rd and Saturday, November 4th – 42nd Annual UWC Christmas Market. See the poster here!
Sunday, November 12th – 3-week Continuing Education course with John Einarson on the evolution of music in Winnipeg. Registration opens to members on October 3rd, and non-members on October 10th. Learn more about this course here.
Please contact Ali at uwcmember@mymts.net for more information on UWC events and activities.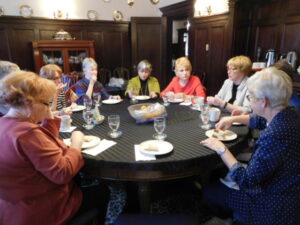 Contact us at uwcmember@mymts.net to arrange a tour of the University Women's Club and to learn more about the benefits of membership.
 "The Club is my home away from home. It's a place where I can be myself while pursuing the many opportunities to learn in a comfortable setting and a place to socialize with friends, both old and new."
– Lorraine Cook