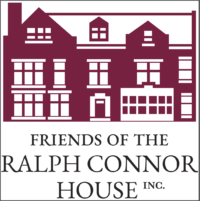 Today, Friends of The Ralph Connor House Inc. (FRCH) owns 54 West Gate and has undertaken its stewardship. UWC members (who have FRCH affiliation as part of membership) work to sustain the legacy of this architectural and historical treasure. Part of that work includes providing interpretative tours for schools to give students an understanding and appreciation of an aspect of early life in Winnipeg.
"The house is really three different stories intertwined: the story of Ralph Connor (aka Charles Gordon), the story of the University Women's Club, and the story of the house itself, how the building represents the era it was built in as well as the uses it has served over the years."
– Heritage Winnipeg.
Stewarding a Winnipeg Heritage Treasure.
Ralph Connor House National Historic Site
Reverend Charles W. Gordon (1860-1937) was a prolific and popular Winnipeg novelist who used the pen name, Ralph Connor. He gained international acclaim for his best-selling books Black Rock, The Man From Glengarry, Glengarry School Days and many others. He maintained his writing career while practicing as a Presbyterian church leader and later as one of the founders of the United Church of Canada.
In 1913, Gordon engaged architect George Northwood to build the residence at 54 West Gate, where he lived with his wife Helen and their seven children. Ralph Connor House (RCH) has been UWC's home since 1937. The stately property has city, provincial, and national historic site designations.