Explore a new interest with our Continuing Education programming.
UWC's continuing education programming offers members and non-members a lecture series on various topics throughout the year. Our Continuing Education committee is well-read and well-connected to retired university faculty and other subject matter experts who know how to make learning engaging and enjoyable. Classes take place in UWC's theatre at Ralph Connor House, which is equipped with a modern sound system and AV equipment.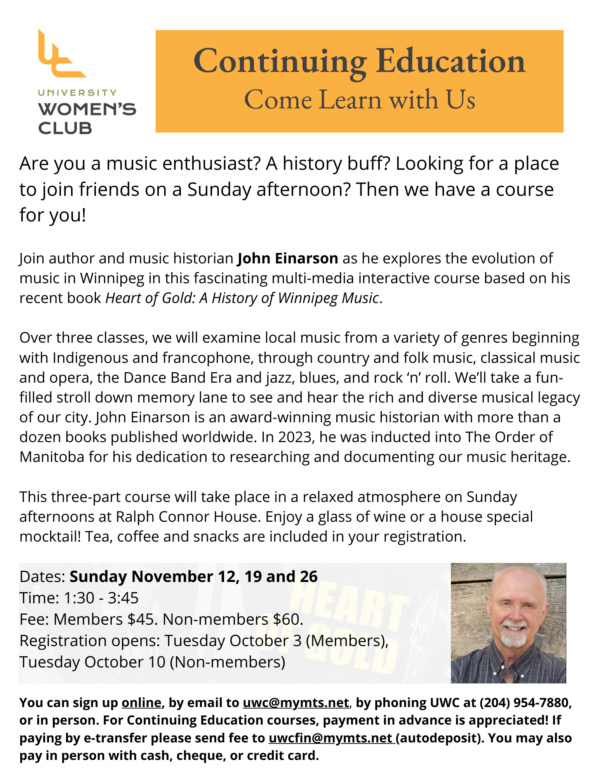 Registration for this course is now closed. Thank you to everyone who signed up.
Past series have included the following subjects:
The Power of Print lecture series featuring studies of female protagonists, memoirs, mysteries, and Indigenous writers
World Issues series examining subjects such as terrorism, world hunger, infectious diseases, and water sustainability.
Canada in a Time of Change delving into public policy, media, and foreign affairs.
Hidden from History – Herstory looking at women's experience from 1940-1970.
Stay for lunch and get to know us.
Our continuing education programming is open to the public, and it's a great way to get to know the club if you're considering becoming a member. Informal discussions often carry on over an enjoyable lunch after the class, creating the perfect opportunity to meet and chat with club members.