October 2022
Joy Hurst, from Edmonton, is now the CFUW President, and it is interesting to note there are 10 different Canadian cities/communities represented on the CFUW Board. Definitely a national organization!
One of the many positive features of CFUW is the Charitable Trust similar, but larger than our Scholarship Trust Fund. It is chaired by Doris Mae Oulton, UWC member and past president of both CFUW, and UWC. The AGM of the Charitable Trust is going to be October 22, 10:30 am, CST. The Annual Report is here. There will be an interesting speaker, an award winner, Casey Oliver. Casey's background is psychology, and she will be speaking at approximately 12:30 CST, on Sexual Violence. Here is a bit more about the topic: "Casey's dissertation focuses on sexual violence that is perpetrated through technology against women. She seeks to better understand whether this type of gender-based violence effects both the mental well-being of women and their use of technology. This could have grave implications for their academic and career participation, especially with the increasingly virtual nature of these settings due to the COVID-19 pandemic. In-turn, this research could inform prevention and response strategies, including platform and government policies." Another point of interest re the CFUW Charitable Trust is a young woman from U of M has received the Indigenous Women's Award – Arielle Bienick MD.
Interested in receiving regular newsletters from CFUW? Register HERE.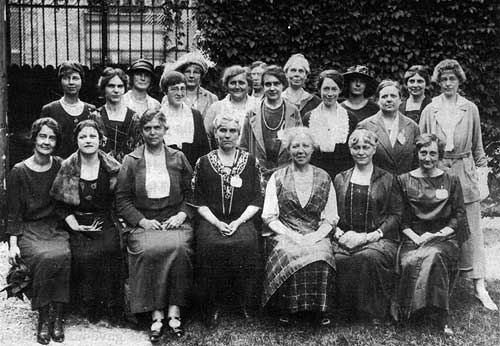 Canadian delegates to the 1921 Paris Conference of the International Federation of University Women. Margaret McWilliams is seated at centre.