CFUW Report for February 2023
There have been a few staffing changes with the CFUW office, including Jaime Beagan joining CFUW as Executive Director on Feb 6, 2023. She is currently the Director of Programs & Services, Student Association of MacEwan University (SAMU) in Edmonton, Alberta. Elizabeth Malcolm has joined as the new Member Engagement Coordinator and Paige Inglis continues as the National Advocacy Coordinator. We welcome these appointments, and look forward to working together on common issues.
Pertinent to these appointments, I do see that CFUW intends to have a "meet and greet" on February 16 – time to be determined. It will be an opportunity to meet the national office team and talk with the national board as well. We are thinking if it's at a convenient time, we might set something up at the Club, so do watch the UWCW announcements.
Do you have an interest or story to share re long term care? Here is something to consider: Collecting stories of Long Term Care (LTC) across the country. The Long Term Care and Older Persons' Rights Study Group would like to hear your stories and experiences with Long Term Care (LTC). By collecting stories from across the country, we hope to create a national picture of LTC in Canada. Submit your story HERE.
Interested in receiving regular newsletters from CFUW? You can register HERE.
January 2023
On November 24th, twenty-five CFUW Members from across Canada met to discuss the roiling state of the Health Care System in Canada and decided to form a National Study Group. This group will look at staff and infrastructure related to Urgent care, primary care, neonatal care, pediatric care, surgical care, specialist care (OBGYN, midwives, neurological, renal, cardiac, cancer, etc), intensive care, palliative care, mental health care and addiction services They talked about the patterns we see in the Health Care system, both the similarities across provinces and the differences between provinces. They talked about the complexity of the system and what factors contributed to that complexity and shared related CFUW policies.There is more, much more to talk about – and do.
There is an opportunity for any member of UWCW to join the group! A small group will meet in early January to plan the path ahead. The VP Education, Kathy Wosnick and the VP Advocacy, Heather Oxman will participate in that discussion so if YOU wish to be part of that discussion, please notify either of them prior to January 5, 2023.
CFUW issued a press release on December 6th, and it can be viewed here: https://cfuw.org/wp-content/uploads/2022/12/CFUW-Press-Release-Dec-6-Femicide.pdf. Notably, the serial killings of Indigenous women in Winnipeg were included. Also noted: "In Canada, we are seeing a 26% increase in the killings of women and girls from 2019 to 2021, where the number of women and girls killed in Canada has reached 162 in 2022" (Canadian Femicide Observatory for Justice and Accountability). By the way, you can read the summary report, and view photos and videos from the December 6th event "Violence Against Women: The Myths that Silence Them" held at Ralph Connor House, here : https://www.uwcwpgmb.com/events-courses/learn-dine/
CFUW is also gearing up for meetings of the Commission on the Status of Women, at the United Nations in New York. Anyone interested must apply by January 3rd. You can apply and see background here: https://www.surveymonkey.com/r/D3HFBCF
December 2022
Many of you were aware of possible changes to the name of CFUW, Canadian Federation of University Women, and participated in a conversation circle to share what you thought of the proposed idea. You will be interested to know the CFUW Board has made a decision on changes. On November 1, 2022 the Board unanimously accepted the recommendation of the Special Committee on Visual Identity and Renaming and voted to move to the use of the acronym CFUW in public and internal communications. The Board also accepted the Special Committee's recommendation regarding rebranding and voted to move forward with a branding refresh which will include a new tagline that describes our work, logo and suite of key messages. Branding is important but at the Club level, membership will only grow if prospective members experience CFUW clubs as welcoming to all women who share our Vision, Mission, and Values. In many ways, CFUW is following the footsteps of UWCW!
CFUW has published an excellent collection of information and advocacy ideas to be used to promote the "16 Days of Activism Against Gender-Based Violence" campaign. Many of you are familiar with the campaign, and the special days that are particularly highlighted. These include:
· November 25, the International Day to End Violence Against Women
· November 29th, the International Women Human Rights Defenders Day
· December 1, World Aids Day
· December 3, International Day of Persons with Disabilities
· December 6, National Day of Remembrance and Action on Violence Against Women
· December 10, International Human Rights Day
You can review the CFUW package here. We are fortunate to have the assistance of Ali Howard who will coordinate our virtual campaign. Watch for it on Facebook and Instagram with the hashtags #16Days and #EndGBV.
And on December 6, (National Day of Remembrance and Action on Violence Against Women), there will be an opportunity for you to attend a special program at the Club. Issues and Actions and CFUW will be hosting Dr. Jane Ursel, who has done considerable research in the area of domestic violence, will be speaking on "Violence against Women: The Myths that Silence Them". We will start at 11, and a sandwich lunch will follow for $10.00. Guests are welcome, but you must register with the Club by noon Friday, December 2nd. Hope to see you there!
November 2022
We all can appreciate the work of the Scholarship Committee here at the UWCW. A tremendous resource that has offered financial support to many women furthering their education here in Manitoba. The CFUW Charitable Trust is also far reaching and provides significant financial support for 13 graduate degree students. Awards are valued between $5,000 to $11,000. There is an application process – and now is the time to encourage Manitoba students to apply. The application is on-line at https://cfuwcharitabletrust.ca/fellowships-application-information There is no longer a fee to apply, and all candidates are informed on their status once the selections have been made.
Did you know CFUW has ECOSOC (Economic and Social Council) status at the United Nations? This gives CFUW an ability to work with others to influence possible actions of the UN and its member countries, particularly with respect to women's rights. In preparation for the upcoming meetings at the United Nations of the Commission on the Status of Women (CSW) in March 2023, CFUW has prepared a statement on the theme of this year's CSW "Innovation and technological change, and education in the digital age for achieving gender equality and the empowerment of all women and girls." The statement calls for recognition of the gender digital divide for women and girls ends with seven clearly stated recommendation. The statement is not posted online yet, but we will be sure to share a link once it is!
October 2022
Joy Hurst, from Edmonton, is now the CFUW President, and it is interesting to note there are 10 different Canadian cities/communities represented on the CFUW Board. Definitely a national organization!
One of the many positive features of CFUW is the Charitable Trust similar, but larger than our Scholarship Trust Fund. It is chaired by Doris Mae Oulton, UWC member and past president of both CFUW, and UWC. The AGM of the Charitable Trust is going to be October 22, 10:30 am, CST. The Annual Report is here. There will be an interesting speaker, an award winner, Casey Oliver. Casey's background is psychology, and she will be speaking at approximately 12:30 CST, on Sexual Violence. Here is a bit more about the topic: "Casey's dissertation focuses on sexual violence that is perpetrated through technology against women. She seeks to better understand whether this type of gender-based violence effects both the mental well-being of women and their use of technology. This could have grave implications for their academic and career participation, especially with the increasingly virtual nature of these settings due to the COVID-19 pandemic. In-turn, this research could inform prevention and response strategies, including platform and government policies." Another point of interest re the CFUW Charitable Trust is a young woman from U of M has received the Indigenous Women's Award – Arielle Bienick MD.
Interested in receiving regular newsletters from CFUW? Register HERE.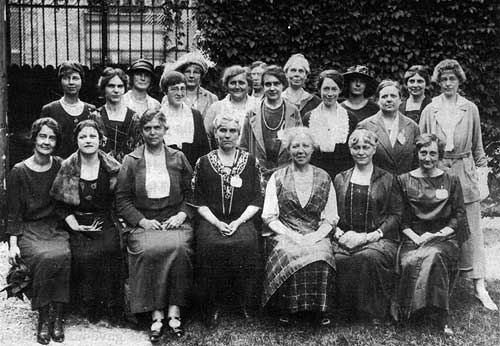 Canadian delegates to the 1921 Paris Conference of the International Federation of University Women. Margaret McWilliams is seated at centre.